When we talk about medical compression stockings, Sigvaris has established itself as a world leader. The company offers a range of high-quality products that cater to different needs of patients depending on their medical condition.
Even though compression garments are very prevalent in the medical industry and are considered the gold standard for the treatment of venous conditions, the awareness amongst the general public is reasonably low. So, what are these compression garments, and how do they work?
What are compression stockings?
The purpose of compression socks and stockings is to support the veins and enhance blood circulation. These garments also help with lymph flow, thus minimizing swelling.
Most vein-related disorders result from poor blood circulation and occur when the veins don't function as efficiently as they should. Compression garments are ideal for preventing and managing any condition resulting from weak veins and impaired circulation.
Benefits of using Compression Garments
Compression socks and stockings are used for a variety of reasons:
Improve blood circulation in your legs
Reduce swelling in the legs
To prevent blood from pooling in the veins of your legs
To support veins
Prevent venous disorders such as varicose veins, Deep veins thrombosis, and venous ulcers
Manage symptoms of venous disorders
Slow down the progression of venous disorders
To support veins
To reduce pain and heaviness due to sitting or standing for long hours at a stretch.
Who is Sigvaris?
Sigvaris is the industry leader in compression stocking manufacture and design, from basic medical needs to advanced medical conditions for specialized diagnoses and severe edema.
The Sigvaris Group was established in 1864 by a Swiss family. In collaboration with phlebologist Dr. Karl Sigg from 1958-1960, they began to make medical compression socks to enhance venous function and alleviate venous-related diseases.
Since then, Sigvaris Group has been committed to providing high-quality and innovative medical compression therapy to help individuals feel their best.
Sigvaris compression stockings have produced many product lines to give a comprehensive and integrated medical solution range.
Sigvaris Essential
Sigvaris Specialities
Sigvaris Well Being
Sigvaris Essential
This Essential range is ideal for those who are looking for medical compression stockings for everyday use. This range offers comfort and durability. In India, two products are available in this range:
This product line was earlier called Sigvaris Cotton.
This product is perfect for anybody who needs compression stockings that won't irritate their skin or cause allergies. The inner part of the stockings is 100% cotton, which provides comfort and breathability. In addition, their temperature-regulating construction makes them appropriate for all seasons. This range is available in subtle tones for everyday use and various designs ranging from calf to maternity to thigh with waist attachment. It is also ideal for both men and women.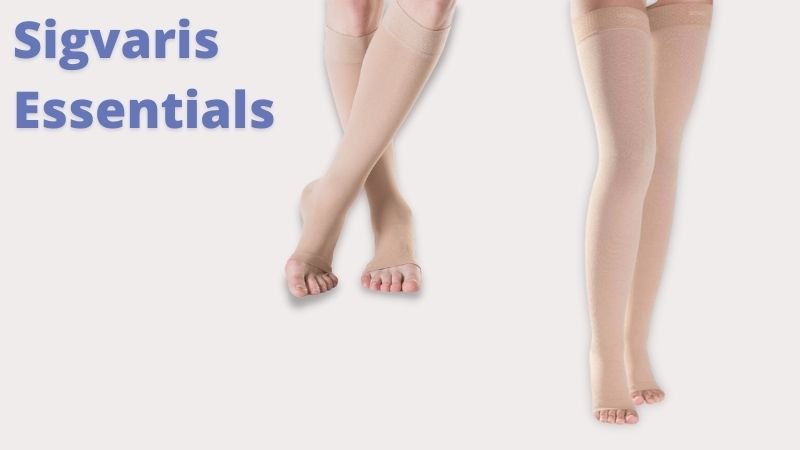 Fundamental features of Essential Thermoregulating Compression garments:
Made with cotton blended fabric
Available in 3 compression grades, Class 1(18-21 mmHg), class 2 (23-32 mmHg) and class 3 (34 – 46 mmHg)
It is available in two categories: below knee length and thigh length.
The material of this cotton range is very soft and gentle on the skin.
Suitable for the treatment of lymphoedema and venous problems.
Convenient to put on and take off.
This product line was earlier called Sigvaris Top Fine.
This product line is ideal for those who want an economical option without compromising on quality. This line is made with synthetic material that is soft and conforming. The garments in this line are opaque, hiding any visible signs of venous conditions on the leg. However, the fabric is not thick or stiff, making it breathable and comfortable to wear.
Fundamental features of Essential Classical Compression garments:
Made with synthetic blended fabric
Available in 2 compression grades, Class 1(18-21 mmHg) and class 2 (23-32 mmHg)
It is available in two categories: below knee length and thigh length.
2. Sigvaris Specialities
As the name implies, these stockings are developed to target specific attention to people's requirements. Special compression stockings come in different materials like rubber and nylon to manage advanced venous edema, lymphedema, and wound care.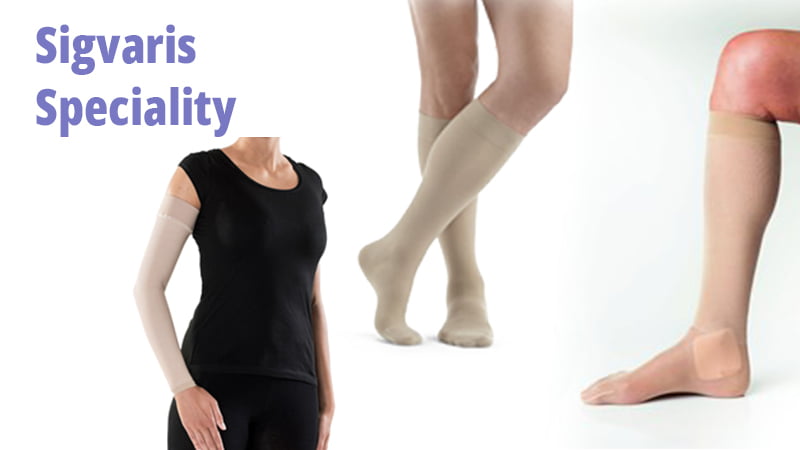 Sigvaris Traditional
This range is made with a blend of natural rubber fibers that provide maximum pressure stability throughout the day. The excellent strength-stretch ratio makes it the preferred option for the management of severe conditions.
Fundamental features of Sigvaris Traditional garments:
Available in 3 compression grades, class 2 (23-32 mmHg), class 3 (34 – 46 mmHg) and class 4.
It is available in two categories: below knee length and thigh length.
Sigvaris UlcerX Kit
The UlcerX kit is a 2 layer compression system for the treatment of active venous ulcers. Compared to bandages, ULCER X is easy to put on, usually without external assistance, and comfortable to wear. In addition, the compression stocking system allows controlled reproducible compression.
Sigvaris Arm Sleeve
Sigvaris range of arm sleeves is ideal for the prevention and management of lymphatic conditions in the arms.
Fundamental features of Sigvaris Traditional garments:
Available in 2 fabric options:

Advance: modal fiber blend
Traditional: natural rubber bend

The garments are available with and without mitten and with and without shoulder straps.
3. Sigvaris Well Being
The Sigvaris Well-Being line consists of compression solutions that can be used to prevent venous conditions, manage minor pain and swelling in the legs and enhance overall leg health.
Sigvaris Samson
The Sigvaris Samson line provides mild graduated compression that can be worn by everyone. It is available in different colors and is ideal while traveling as well as for those who sit or stand for long hours at a stretch and are therefore at risk of developing venous conditions.
Key features of Sigvaris Samson
Breathable cotton for sensitive skin
Soft and durable
Ideal for everyday use
Mild compression
Where can you find Sigvaris Compression Stockings?
It is widely accessible from various sources internationally, but Novomedshop.com is a website where you can find Sigvaris Compression garments in India as Novomed is the only authorized importer and distributor. They provide a wide range of compression stockings from Sigvaris. All the products listed on the website are authentic and genuine. Once you place an order on the website, your order will be shipped the next day with no shipping charges at all.
Frequently Asked Questions
How many hours a day should you wear compression stockings?
Sigvaris Compression stockings are designed to be worn all day. It will fit snugly on your skin without causing discomfort because it is made with soft materials.
Are Sigvaris Compression socks good?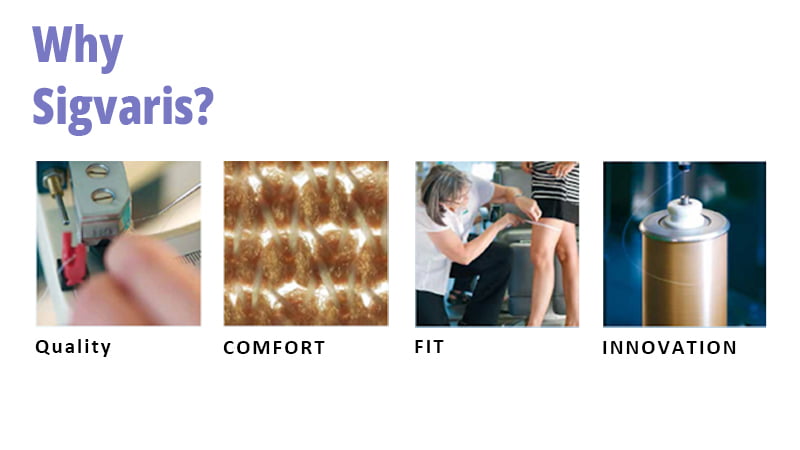 Yes, they're excellent. It provides compression socks for both men and women. In addition, Sigvaris Stockings offers both preventive and medical compression stockings for varicose veins and DVT, depending on the level of compression required.
What are Class 2 compression stockings used for?
Relief from chronically painful, heavily fatigued legs
Relief from symptoms of pronounced varicose veins with swelling
Relief from symptoms of severe varicose veins during pregnancy
Post-surgical applications
Management of healed venous ulcers