Support Stockings – Sigvaris Samson – Below Knee Length
COMPRESSION LEVEL: SUPPORT
Ideal for men and women 
Best Suited For: 
Long hours of sitting and/or standing
Travel
During and post workout
Benefits:
Relief from tired, achy legs and minor swelling
Boosts blood circulation and prevents pain and swelling during long periods of sitting and/or standing
Preventive measure for those at risk of developing venous disorders such as varicose veins and deep vein thrombosis
Effective for those looking to stay fit and maintain leg health
Effective for fitness and sports. Helps by improving performance as well as recovery
Size Guide
Sizes for Sigvaris Samson are based on your shoe size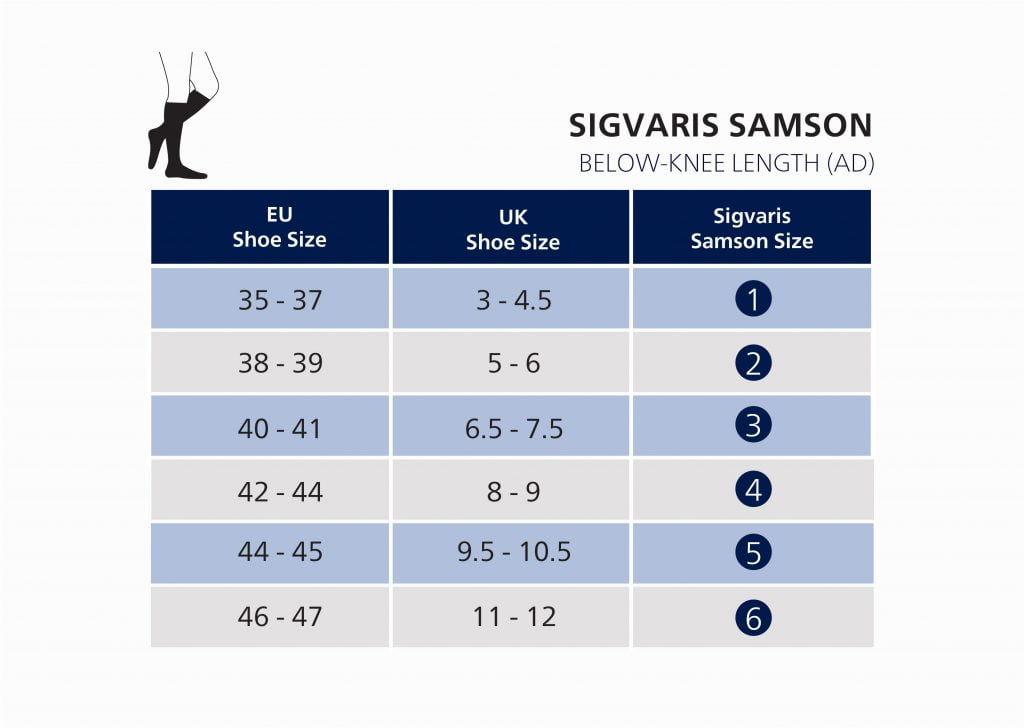 Shipping & Returns
Before we ship your orders, we want to make sure that the product you have selected is right for you! So, within 24 hours of placing your order, your will receive a call from our product specialist to confirm if the product, size and compression class selection is correct and as per your need. We will ship your order only after receiving this confirmation. 
If you would like to verify your size selection, keep your measurements handy! We will also be happy to assist you with any other questions that you may have about the product and its use. 
To minimize delays in shipping, choose you size as per the size chart and after carefully and correctly measuring your legs as per the instructions.    
95% of all orders are shipped within 24 – 48 hours. 
Depending on where you are located, your order should reach you within 4-5 working days. This is an estimated timeline. We will share all relevant order status details with you by email. In case of unexpected travel delays, we will keep you informed on the status of your order.
You can read about our return policy 
here
Long periods of sitting or standing puts pressure on your veins. Support stockings by SIGVARIS actively enhance the health of your legs. By providing optimal support, they will help you to feel more at ease. Whether at work or during your leisure time, these support stockings will give your legs a light feeling all day long.
Compression Level: Support/Mild (lower than medical compression class 1)
Colour: Black
Style: closed-toe, below-knee length, unisex
Features:
Graduated Compression from ankle to calf
Skin friendly Cotton wicks away moisture and offers long lasting comfort
Maximum comfort due to the flat toe seam
Light legs everyday thanks to noticeable support
Made in Switzerland
Fabric Content: 47% polyamide, 45% Cotton, 8% Elastane
Package contents: a pair of stockings, instructions booklet
Relief from tired, achy legs and minor swelling
Effective during travel
Effective during long periods of sitting and standing
Preventive measure for those at risk of developing venous disorders
Ideal for those looking to stay fit and maintain leg health
Best suited for those whose lifestyle or job requires them to sit or stand for long hours at a stretch. Example: doctors, nurses, IT professionals, teachers, retail workers, hospitality professionals, chefs
Sizes for Sigvaris Samson are based on your shoe size